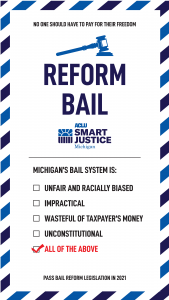 No One Should Have to Pay For Their Freedom

Michigan's bail system is badly broken. On any given day, about half of the state's jail population is locked up because they can't afford to pay for their freedom.
Today, we sent Michigan lawmakers individualized letters signed on by the ACLU of Michigan, our co-sponsors, and leaders from across the state pressuring lawmakers to build on the work from last year and pass comprehensive bail and pretrial reform legislation by the end of 2021. 
Over the course of the year, we'll be continuing our campaign to reform Michigan's unjust bail system. Here's how you can get involved and join us in transforming the criminal legal system.